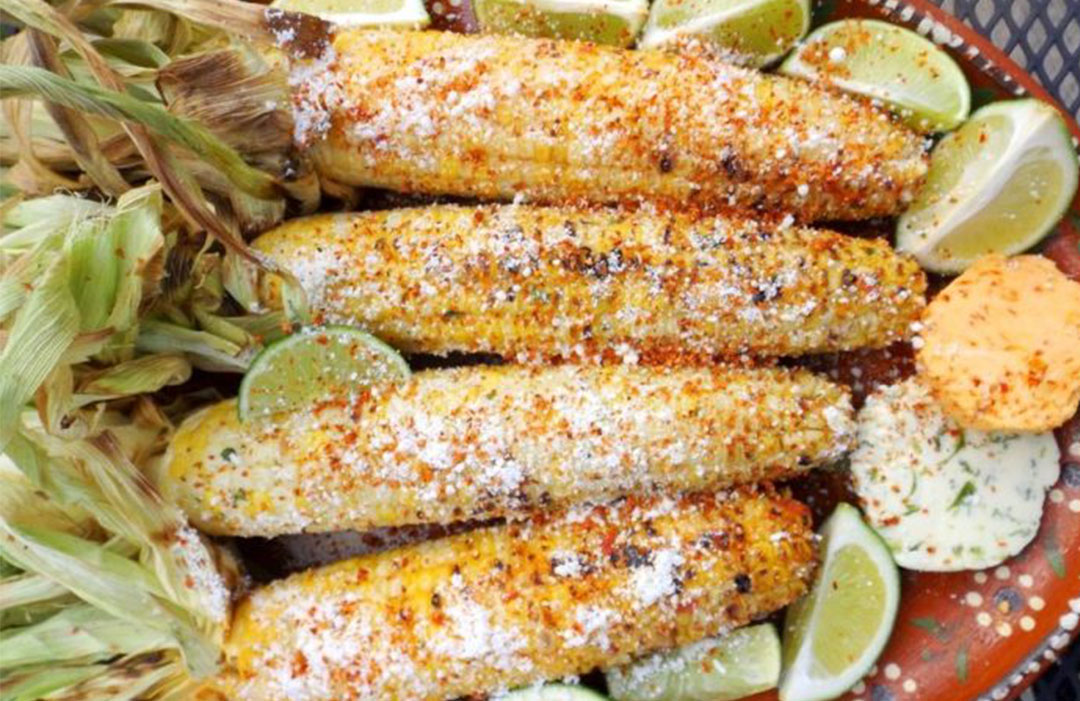 Elote Asado (Grilled Corn with Salsa Butter)
Grilled corn with salsa butter is a favorite at any cookout. The first time I heard of salsa butter was a few years back in one of my grilling cookbooks. Come to find out it was actually a compound butter mixed with different salsas. A compound butter is simply butter mixed with different herbs, spices and yes, chiles! I grew up enjoying all kinds of corn, but especially the Mexican-style corn. And whether it was grilled, steamed or in a cup, it was always delicious! This salsa butter is delicious on corn, and on potatoes and steak too!
Directions
1.- Preheat a small skillet to medium heat for a few minutes. Toast the chile de arbol, just until they become aromatic. It should take about 1-2 minutes. Turn as needed. Let chiles cool for a few minutes. Crush the chiles, until fine, using a mortar and pestle or in a coffee grinder used for spices. Transfer to a bowl. Mix in the lime juice, agave, oil and salt. Set aside.
2.- Transfer the jalapeño to a mini chopper. Pulse to process until it looks like a thick paste. Add the lime, cilantro, oil, agave and salt. Pulse until well incorporated. Transfer to a bowl.
3.- Using a stand mixer or a hand held electric mixer, whip the butter until fluffy and creamy. Divide the butter in half. To one bowl of butter, mix in the chile de arbol salsa. To the other bowl, mix in the jalapeño salsa. There will be excess liquid in the jalapeño salsa. Do not mix in.
4.- Spread out ans 8×10 piece of plastic wrap on a flat surface. Spoon the salsa butter down the centerfold in the sides of plastic to cover using hands to form a log shape. Repeat with the other salsa butter. Freeze for a few hours before using.
5.- For corn, peel back the husk, remove all of the silks. Leaving the husks attached to corn, trim the ends of corn husk about 3 inches until all even. If you prefer a more steamed like corn, leave the husk on.
6.- Preheat grill to medium/high heat. Place the corn on the cool side of the grill. Close the lid and cook 8-10 minutes. Turn and cook for another 7 minutes. Move corn over direct heat on the grill. Grill for just another few minutes until desired char and grill marks.
7.- Remove from grill and immediately add a generous tablespoon of salsa butter (either flavor) to your corn. Sprinkle with cotija cheese and chile limon seasoning. Serve with lime wedges.
Ingredients
1/2 cup Jaimito cotija cheese® finely grated
8 chile de arbol peppers
Juice of 1 lime
1 tablespoon agave nectar
Salt to taste
1 large jalapeño pepper roughly chopped
Juice of 1 lime
1 tablespoon cilantro finely chopped
1 tablespoon agave nectar
1 tablespoon grape seed or olive oil
Salt to taste
3 sticks or 1 1/2 cups unsalted butter at room temperature
8 fresh ears of corn,
Chile limon seasoning to taste
Lime wedges for garnish