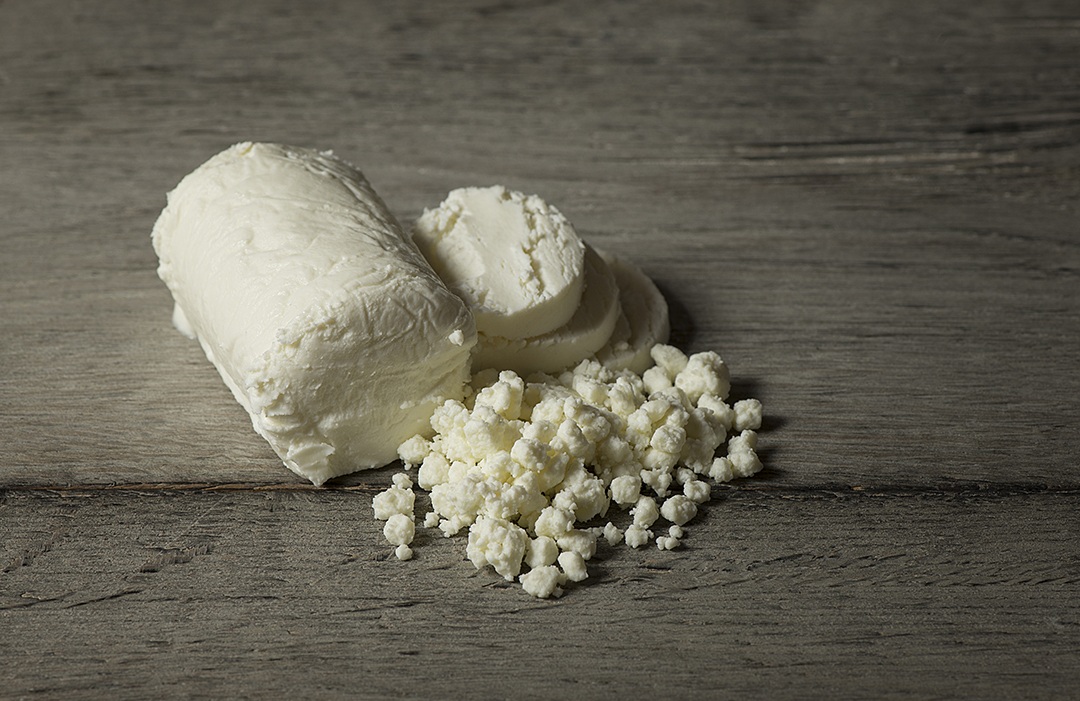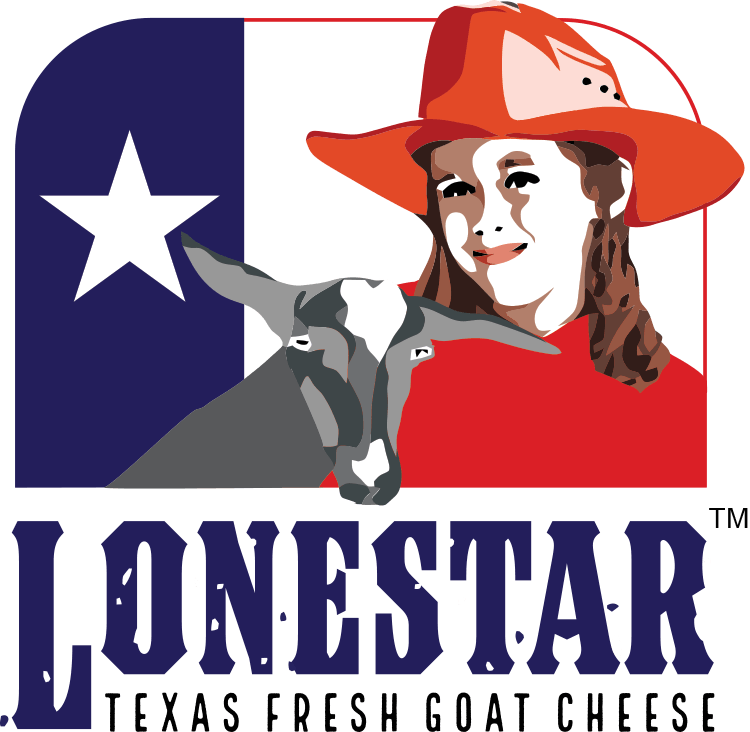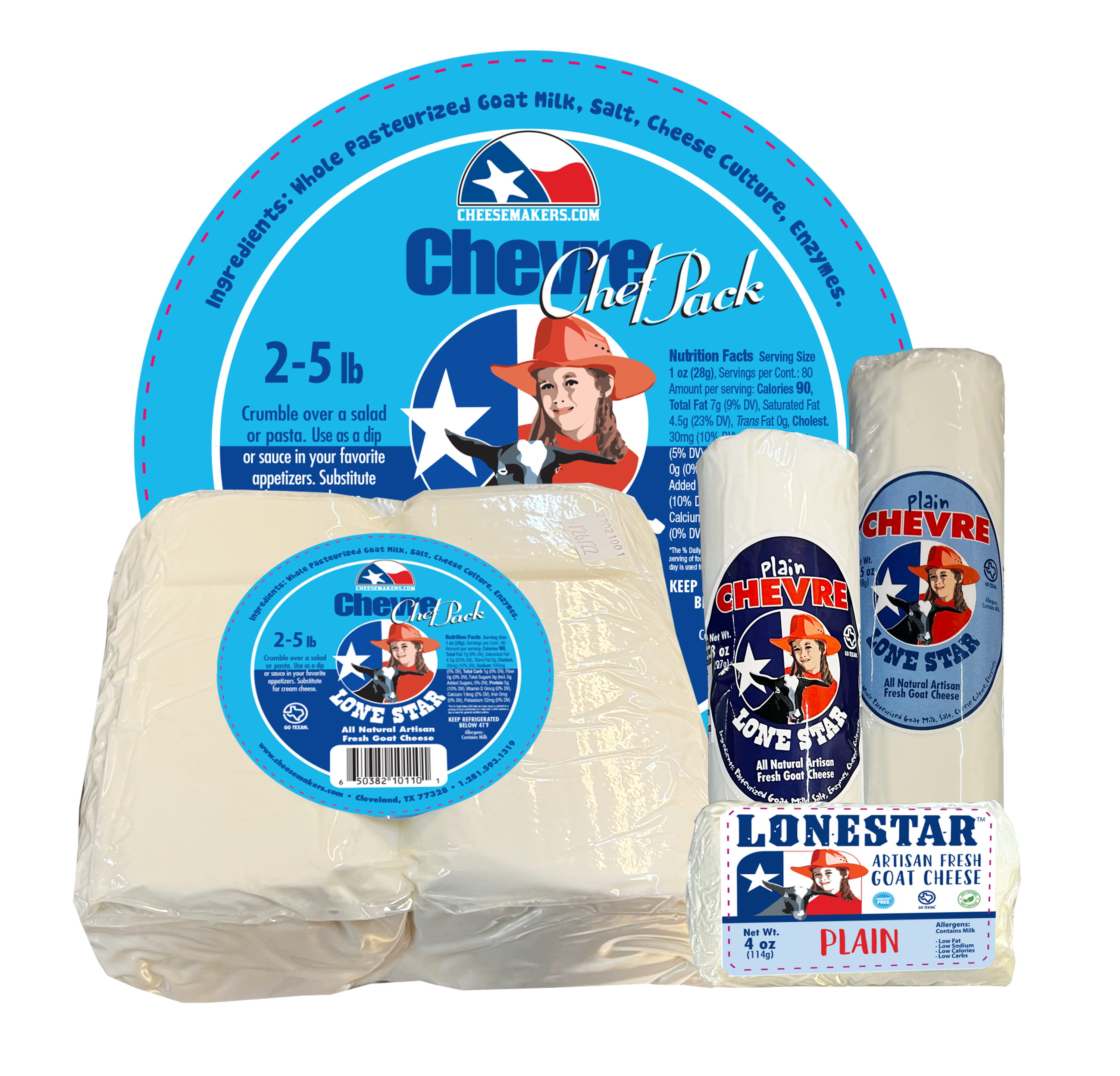 Plain Goat Cheese
(plain)
The original Lone Star Goat Cheese is easily the most versatile cheese in the Cheesemakers lineup. This cheese can be used in just about any dish and the end results will be fantastic. Our Lone Star Goat Cheese in its original flavor has a fresh, mild taste and smooth, creamy texture. All of our Lone Star Goat Cheese is made without preservatives to ensure a rich flavor! At Cheesemakers, we're proud to be one of the most trusted goat cheese makers around, and we're confident you'll see what makes our cheeses different from the rest. Ultimately, we're more than just goat cheese manufacturers — instead, we're a passionate team that strives to offer high-quality products that make life better for everyone. Try our artisan goat cheese in a free cheese sample kit today to see for yourself what makes Cheesemakers goat cheese so wonderful.
Uses: Our versatile Lone Star Goat Cheese can be mixed into pasta, quiche, cake batter and many other recipes ranging from appetizers to desserts. This cheese can even be eaten right out of the package on crackers with jelly as a snack! To get more ideas on how to use Lone Star Goat Cheese, check out the following recipes (OR check out our recipe page).
Nutritional Data
Per Serving
% Daily
Value
Serving Size
1 oz (28g)
Calories
80
Fat Calories
60
Total Fat
6g
9%
Saturated Fat
4.5g
23%
Cholesterol
20mg
7%
Sodium
150mg
6%
Total Carbohydrates
<1g
0%
Dietary Fiber
0g
0%
Sugars
1g
Protein
6g
Vitamin A 4%, Vitamin C 0%, Calcium 15%, Iron 0%
% Daily values based upon a 2000 calorie diet
DOWNLOAD THE SPEC SHEET

Order from DOT
Download DOT Brochure
Product Description
Plain goat's cheese made from pasteurized goat's milk.
Package Sizes
4oz, 8oz, 10.5oz, 2lb, 5lb
Ingredients
Pasteurized goat's milk, salt, cheese cultures, rennet
Allergen Statement
Contains Milk
Physical Characteristics
Smooth, creamy texture with a mild and tangy flavor. Clean fresh aroma, white in color
Usage
Cheeseboard, appetizers, prepared dishes such as pizza, quiche, salads, cheesecakes. Great for making Queso Flameado
Storage/Shelf Life
Ideal storage is 36F with a range of 34‐40F. Shelf life is 180 days from packaging.
Lot Code Information
Example: 13100901 Explanation: 13=Year, 10 = Month, 09 = Day, 01 = Production Run
Auditing Body
Silliker
FDA Registration #
15664620630