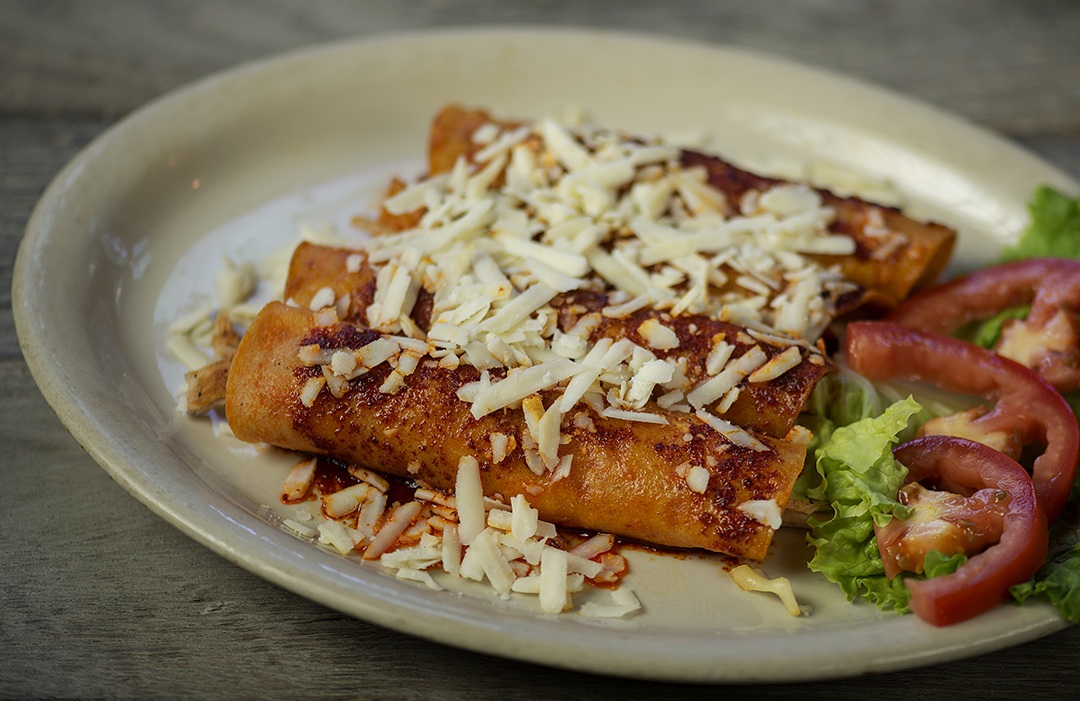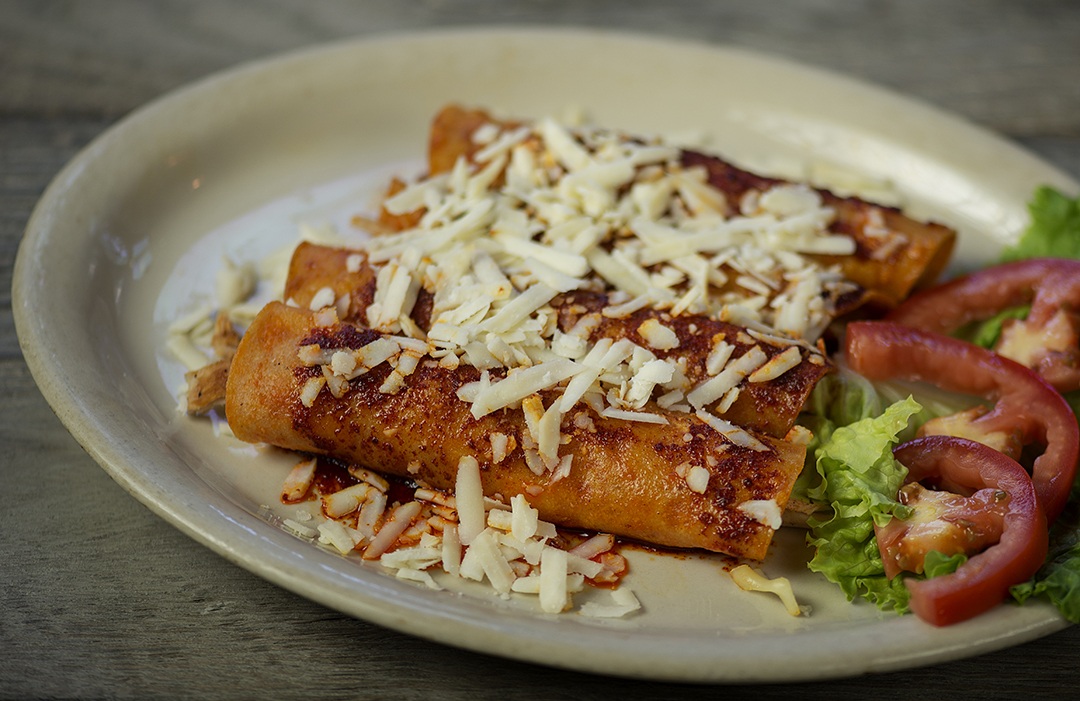 ENCHILADA ROJAS – RED CHILE ENCHILADAS
THE SAUCE.
Heat a dry heavy skillet or griddle over medium. Tear the chiles into flat pieces, then toast them a few at a time: use a metal spatula to press the chile pieces flat against the hot surface, skin side up, until they are aromatic and have lightened in color underneath, about 10 seconds. (If the heat is right, you'll heat a slight crackle when you press them down, but you shouldn't see more than the slightest wisp of smoke.) Place in a bowl, cover with about 3 cups very hot tap water, lay a small plate on the chiles to keep them submerged and soak for 20 minutes to rehydrate.
Use a pair of tongs to transfer the rehydrated chiles to a food processor or blender. Measure 1-1/2 cups of the soaking liquid and add it to the chiles along with the garlic. Blend to a smooth puree, then push through a medium-mesh strainer into a pie plate. The consistency should be like tht of canned tomato sauce. Taste (the sauce will be a little rough on the tongue at this point) and season highly with salt, usually about ½ teaspoon.
OTHER PRELIMINARIES.
Set out the grated Jaimito Cotija Cheese and sliced onion. If using the optional chicken, warm it in a microwave or in a small skillet over medium-low heat (for stove-top heating, you'll want to dribble in a little water to keep it from sticking).
FINISHING THE ENCHILADAS.
Heat the oven to 350 Deg F. Place the sauce and tortillas near the stove, with a baking sheet beside them. Set a small (8 inch) skillet (preferably nonstick) over medium heat and add 1 tablespoon of the oil or lard. When the oil is hot, dip both sides of a tortilla into the sauce, then lay it in the oil. Let it sear and sizzle for about 20 seconds, then use a small spatula to flip it over. Sear the other side for about 20 seconds. Transfer to the baking sheet, folding it in half. Continue dipping and frying the remaining tortillas, wiping out the pan occasionally and then heating another tablespoon of oil or lard to fry a new batch. Arrange the fried, folded tortillas in groups of three, overlapping them. Pop them into the oven to heat through, about 5 minutes.
Watch the video here!
Ingredients
5 medium (2-1/2 ounces total) dried ancho chiles, steamed and seeded.
2 garlic cloves, peeled and roughly chopped
Salt
½ cup of grated Queso Jaimito Cotija "Parmesan of Mexico".
1 small white onion, thinly sliced
2 cups coarsely shredded cooked chicken, preferably grilled, roasted or rotisserie chicken (optional)
12 corn tortillas
About 1/3 cup vegetable oil or rich-tasting pork lard
4 loosely packed cups sliced (1/4-inch) romaine lettuce
1-1/2 tablespoons vinegar (cider vinegar works nicely here)