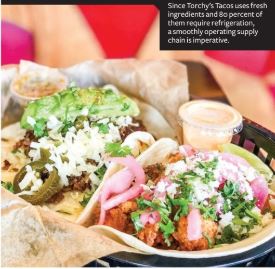 Successful History from one of our Biggest Customer
Taco Junkies!
Torchy's Tacos has implemented a new supply chain model to accommodate its rapid growth. By Kat Zeman
Torchy's Tacos isn't afraid to be edgy. It serves "damn good tacos" and is not shy about broadcasting it. Its innovative approach to this Mexican dish is generating newly-indoctrinated taco junkies in Texas, Colorado and Oklahoma.
"Damn good tacos," says Ed Malloy, the company's director of purchasing. "It's who we are. It's not just a tagline."

Malloy has an important job. In order for Torchy's Tacos to keep serving its customers those damn good tacos, Malloy has to make damn sure that his supply chain is operating at optimum.

Torchy's Tacos, a chain of more than 60 casual dining restaurants that claims fame in Texas, Colorado and Oklahoma, has tripled in size over the past five years. It estimates that it will open 100 new stores in the next five years and is expanding its reach into Arkansas.